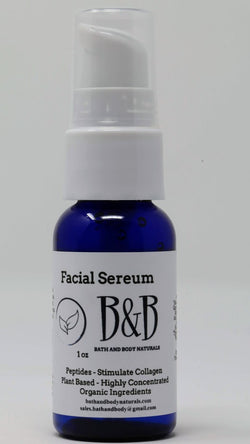 Soften The Skin's Aging Process - Look & Feel Your Best!
Peptides Stimulate Collagen & Supports:
Healing
Repairing
Increasing Skin Thickness
Refining Appearance of Wrinkles
Evening Skin Tone & Texture
Restoring Elasticity & Firmness
Top Notch Delivery System
Provides Nourishing Minerals & Vitamins 
Provides Hydrating Oils
Apply Morning & Night
Cutting Edge Ingredient Deck
A Little Goes A Long Way
Gentle  
Light Weight Moisturizer
Smooth Gel Consistency
Natural & Organic Ingredients 
Concentrated Delivery System
Healing Aloe Vera & Botanical Extracts
Deep Penetration
Hyaluronic Acid:Elasticity & Hydration

 

Peptiedes Stimulate Collagen
Absorbs Quickly
Paraben Free
Sulfate Free
 All Natural
Plant Based
No Animal Testing
1 oz Pump Bottle
Recyclable 
No Harsh Chemicals
             Do The Largest Organ Of Your Body A Favor 
                                  Go All Natural!!
How To Use:
Face Serum is a lightweight moisturizer that penetrates deep into the dermal layers to delivery the active ingredients.
Apply on face, neck & décolletage morning & night.

Cleanse with Aloe & E Face Wash
Gently Pat Skin Partially Dry
Use Organic Witch Hazel Before Applying Serum
Apply a small amount to entire face, neck and decollete.
Allow to dry.
Can be used daily
Can be used under make up.
Finish with a small amount of Facial Rejuvenation Cream
Note: Leaving a bit of moisture on the skin allows the products to be locked in with moisture and prevents the overuse of highly concentrated products.
Suggested Products / Routine for Daily Pro Active Face-Skin Care:
Cleanse with Aloe & E Face Wash or Acne Fighter Face Wash or Apply Enzyme Face Mask, blot skin dry. Cleanse any leftover impurities with Organic Witch Hazel. Finalize the routine with Facial Rejuvenation Cream OR Facial Serum OR Acne Spot Treatment for superior pro-active face care. Washes and Creams, Serums or Spot Treatments can be mixed or matched depending on your day to day needs.
Standard
Function
Botanical
Deionized Water
(Ions Removed - No Charge)
Aqua
Witch Hazel
Astringent - Non Drying
Contains 99.9% Witch Hazel Extract & only 0.01% alcohol to preserve

Hamamelis Virginiana Water
Kosher Vegetable Glycerin
Moisturize-Humectant
(vegetable based)


Organic Aloe
Has the potential to heal & moisturize
Aloe Barbadensis Leaf Juice
Caesalpinia Spinosa Gum
Natural Gum Thickener
Texture
Natural Fiber
From Tree Endosperm
Tara- Quechua

Organic Jojoba Seed Oil
Has the potential to
promote healthy skin
Simmondsia Chinesis
Sodium PCA
Moisturize
Plant Extract
Sodium Lactate
Moisturize
Plant Derived
Silk Protein Amino Acid Blend
Building Blocks For Skin Protein
Plant Derived
Organic Gotu Kola Extract
Has the potential to
promote healthy skin
Centella Asiatica
Horsetail Extract
Has the potential to
promote healthy skin
Equisetum Arvense
Wild Geranium Extract
Has the potential to
promote healthy skin
Geranium Maculatum
Organic Dandelion
Extract
Has the potential to
promote healthy skin
Taraxacum Officinale
Hydroxyethyl Ethylcellulose
Thickener
Carrageenan
Emulsifier
Humectant
Potassium Sorbate
Mild Preservative
(Alternate to Parabens)
Potassium Salt of Sorbic Acid-Natural Fatty Acid
Sodium Benzoate

Preservative
Plant Derived
Salt of Benzoic Acid
Ethylhexylglycerin
Preservative - Gentle
Derived from glycerin