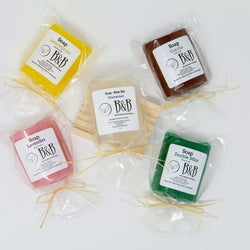 Soap Unscented Base Exfoliating & Moisture Bars
Your skin will love how this formula cleans, hydrates, exfoliates & leaves a soft & soothing feel with a radiant glow. 
Shea Butter - Creamy Goats Milk -Vit E
Silky & Generous Lather
Gentle Cleanser
Moisturizing
Non - Drying
Lathers In Hard Water
Long Lasting
pH Balanced
Three Levels of Exfoliation Options 
Wonderful Aroma
Contains All Food Grade - Vegetable Based Ingredients
Colored With Eye-Catching Natural Mica Minerals
Packaged In Cellophane Bag - Tied With Natural Raphia
Great Price
| | | |
| --- | --- | --- |
|  Hard Milled Glycerin  | Silky Lather | Effective at Cleansing  |
| Mild on Skin's pH | Paraben Free | Moisturizing |
| All Natural  | Plant Based | Natural Mica Mineral Colors |
| Long Lasting | Low Water Content | Natural Ingredients |
| No Cheap Fillers | No Cheap Additives | No Animal Testing |
| 4 oz Bar |  Wonderful Aromas | No Harsh Chemicals |
Do The Largest Organ Of Your Body A Favor
Go All Natural!
How To Use:
Applying the soap to your skin, using your hands is typically how exfoliating soaps are used. They are meant to exfoliate the skin by opening pores, removing dead skin cells which encourages new skin cells.
Massage the lather all over your body.
Rinse with water.
While pores are open, re-hydrate the skin deep below the topical layer with daily hand and body lotion or body oil.
Store soap on a hardwood soap dish to allow to dry in between uses.
Safety Precautions - Shelf Life
Do not use on open wound(s)
Discontinue use if redness or irritation occurs
External use only
Keep Out of Eyes
Shelf life: 1 year
Bars Contain Three Natural Moisturizers - Your Skin Will Drink Them Up!
Shea Butter - for moisturizing & to help retain elasticity of the skin
Full Cream Goats Milk - for moisturizing & creamy texture
Vitamin E - moisturizes the skin from within
---------------------------------------------------------------------------------------
Unscented Base Bar Apricot Kernal Meal - contains base ingredients, & apricot kernel meal as the exfoliator. This is a nut meal that is ground very fine. It is a very soft & gentle exfoliator.

Unscented Base Bar Oatmeal - contains base ingredients, & organic oatmeal as the exfoliator. Oatmeal is a medium grade abrasive. Softens when it is wet, great for your skin & has been used for centuries in the bath & shower.

Unscented Base Bar Loofah - contains base ingredients, & loofah as the exfoliator. Loofah comes from a cucumber plant. It is brittle when dry & softens when it is wet. Loofah is the more abrasive than oatmeal or apricot kernel meal.

Exfoliating helps get rid of dead dry skin and helps to revive and renew your skin. People who have allergies or who have been through treatments like chemo and radiation buy these bars specifically because they can't tolerate certain aromas or dyes. These bars contain no essential oils for aroma. Sometimes the added ingredients like goats milk or nut meal might have an aroma to some people, but in general the bars do not have a specific aroma to any oil or fragrance.
Note: if you want to buy only the base as an unscented bar with no exfoliation ingredient added, you can purchase that under the Unscented Base Bar option. This too is used by many who can not tolerate aromas & have tried everywhere to find a truly unscented product.

| | | |
| --- | --- | --- |
| Standard | Function | Botanical |
| Vegetable Glycerin (Food Grade) | Moisturize | Glycerol |
| Coconut Oil (Food Grade) | Cleanse Lather | Cocos Nucifera |
| Safflower Oil (Food Grade) | Moisturize | Carthamus Tinctorius |
| Sorbital (Vegetable Source) | Humectant | Glucitol |
| Sodium Laureth Sulfate (Vegetable Source) | Cleanse Lather | |
| Vegetable Stearic Acid (Triple Pressed) Purest Form | Harden Consistency | Octadecanoic Acid |
| Sodium Hydroxide (contains some water content) | pH Adjuster | Derived From Sea Salt |
What It Doesn't Have
NO Film Left On Skin Or Residue On Shower/Tub
NO Tight Dry Feeling After Cleansing
NO: Excess Fillers & Additives
NOT your average bar of glycerin soap
Note: When excess fillers, sugar & water are added, it cheapens the soap, the soap has more clarity & it results in an inferior soap that may upset the pH balance of the soap. That results in the soap becoming less mild on the skin & can strip the skin of the natural mantle.
Soap Notes:
Glycerin: A clear, sticky liquid that is naturally produced during the soap making process. It exhibits properties that allow moisture to be attracted to the skin; which in turn, provides hydration to the skin.
Hard Milled Glycerin: Where glycerin is the number one ingredient & produces a lower pH of (8.0 to 8.5) than most hard milled soaps pH of (10.0 to 12.5). It will not upset the skin's natural pH balance.