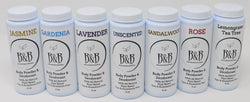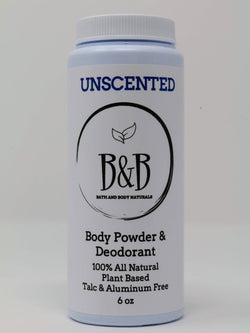 You will love how silky this powder feels and performs every single day!
3 Powerhouse Ingredients
Absorbs Moisture
Absorbs Odors
Unlimited Applications
Cutting Edge Ingredient Deck 
A Little Goes A Long Way
| | | |
| --- | --- | --- |
| Talc Free | Aluminum Free | Paraben Free |
| Phthalate Free | SLS Free | Non Dusty  |
| Absorbs Quickly | Highly Concentrated | Silky Texture |
| All Natural | Plant Based | No Animal Testing |
| 6 oz Bottle | Recyclable | No Harsh Chemicals |
   Do The Largest Organ Of Your Body A Favor
                             Go All Natural!!
How to Use: Personal Hygiene
Shake powder to apply a light application where needed:
Head to Toe
Underarms (Has the ability to be an all-natural deodorant)
Hair / Scalp ( to absorb excess oil - reduces washing frequency)
Babies (suggested uses are unscented & lavender options only)
Stinky Shoes
Gym
Business / Commercial Applications

Assist putting scuba diving gear on easily
Costume makeup base for plays
Movie production prop - ex: snow, dust - (Used By A Well Known Production Company)
Artist paint medium
Post body wax application
Commercial archery production (keeps parts moving on production line)
The business commercial list are all applications the powder formula has been actively and successfully used in.
Note: Formula is Highly Concentrated - A Little Goes A Long Way!
Safety Precautions - Shelf Life
Do not use or apply formula to open wound(s)
Discontinue use if redness or irritation occurs
External use only
Keep Out of Eyes
Shelf life: 1 year
Unscented - This is well suited for infants, kids, adults or people who choose not to use fragrance. Unscented works well for many applications. Try it at the gym working out, shoes, babies, & as a deodorant to help absorb excess moisture & odor.
Lavender - light, sweet floral aroma (Essential Oil)
Sandalwood - deep, woodsy aroma (Essential Oil)
Tea Tree-Lemongrass - fresh, clean aroma (Essential Oil Combination) Lemongrass, Tea Tree, Lavender, Eucalyptus, Rosemary, Pine, Peppermint
Clementine-Fennel - fresh citrus & licorice combo (Essential Oil Combination) Clementine, Fennel, Tea Tree, Bergamot, Lemongrass, Lavender
Lime - crisp fresh tropical aroma (Essential Oil)
Jasmine - a beautiful, rich sweet aroma (Fragrance Oil-dpg free)
Gardenia - light & sweet floral aroma (Fragrance Oil-dpg free)
Rose - light & floral rose aroma (Fragrance Oil-dpg free)
Cranberry – sweet & true to cranberry aroma (Fragrance Oil)

Coconut - fresh & clean true coconut aroma (Aroma Oil - Plant Derived)
Guide To Selecting An Aroma
Essential Oils - Are used in this formula for aroma only.
Aroma Oils - Plant Derived - Are used in this formula for aroma only. This innovative technology of combining real plant extracts together to arrive at a desired fragrance allows for a pleasant aroma without the potential toxicity of synthetically produced fragrance oils.
Fragrance Oils - DPG Free (Dipropylene Glycol) used to cheapen fragrances by diluting them. Offering select fragrance free dpg oils for consumers who desire to buy and use a certain fragrance/aroma in a product.
The ingredient deck consists of corn starch, arrowroot powder & clay; all of which are derived from plants.
The following information will explain each ingredient & their purpose in order to formulate a plant-based, highly effective, all-natural powder.
Cornstarch (zea mays)
Has the ability to absorb odor & moisture
Soft & gentle
A healthy alternative to talc
Cornstarch is produced through the milling of corn to extract the starch, which is then processed & dried to a fine powder
Arrow Root Powder (maranta arundinacea)
Has the ability to absorb odor & moisture
Silky texture
Its natural qualities are almost identical to talcum
Arrowroot is a starch flour made from the root of the manoic plant. It's fine texture and pure white color makes it a natural additive for body powder
Clay (Kaolin White)
Has the ability to absorb odor & moisture
High mineral content
Soft & Silky
Has the potential to lightly draw out impurities & toxins.
Certain brands of talcum powder have tested positive for asbestos